Add or edit the Master Document Index table; a.k.a. Document Control Index (DCI).
As a minimum, you must add your CAPA form.
1)Tab 1 of the The Documents Control Index Form (see (A) in the image below) provides a record of the document description, which includes:
a.QMSCAPA assigned Sys Doc Id
b.User defined document Id
c.Current Revision Date
d.Last Date Approved
e.Effective Date
f.User defined Document Title
g.File Path to where the document may be stored electronically
h.Document approval requirements
2)Tab 2 Version Approval and History provides access to the document version history log and a log of approvals by persons whom are authorized documents.
3)Tab 3 Document Text Editor provides access to the QMSCAPA built-in document generator and text editor.
4)Tab 4 Options provides access to additional document control options.
User Tips:
•Press and hold the Ctrl key + the F10 key to edit Org Chart Position text. (See Edit the window field names)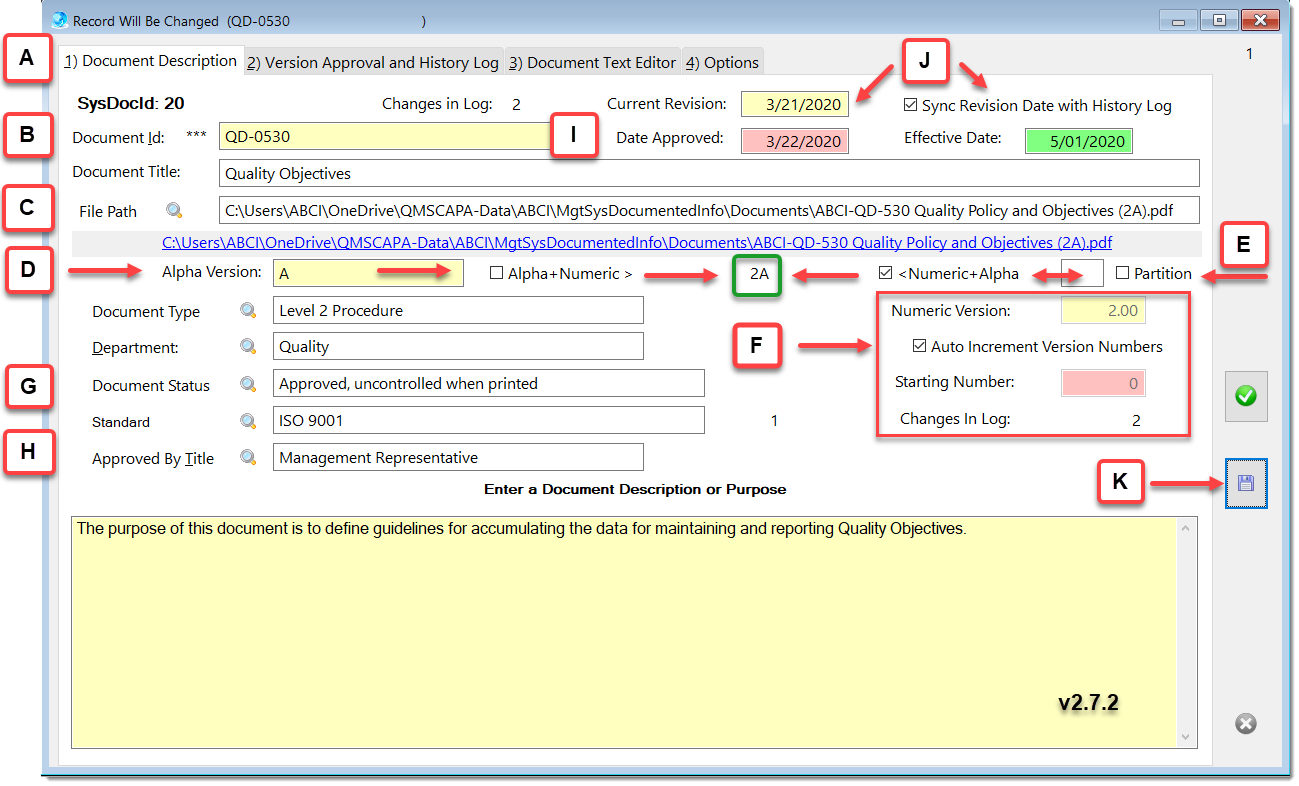 In the image above ...
A.The letter (A) positioned at the Tab row provides access to various document control options.
B.The letter (B) positioned at the Required Approval group box of the Job Titles/Organizational Chart Postion required to review and approved documents.
i.The Approved by Title field is typically the person who has been authorized as the person responsible for making the final approval. Enter a specific Job Title for the final required approval.
C.The letter (C) with pointing arrows to
1.the quantity of Approvals Required (tally of the þ Required Approvals group check-boxes)
2.quantity of approvals by E-Signature in the Version Approval and History Log
3.quantity of approvals verified by a QMSCAPA user
D.Approval Requirements are VERIFIED checkbox is intended to be used as a document approval inspection method to verify that the document approval process has been verified. The Date Approved (if blank) shall be automatically set to the current date when the þ Approval Requirements Verified check-box is checked and the Approvals Required equals the Approvals Completed and the quantity of approvals Verified.
User Tips:
•Press and hold the Ctrl key + the F10 key to edit Org Chart Position text. (See Edit the window field names)
•The Document File Path field may contain any file type (opening application must be installed on the users computer or server), includes web pages, Word docs, PDF and RTF.
•The Document Status field is used to report the document status when the QMSCAPA Document Generator is used to create the document and printed.
•The Document Comments field is intended for unique guidance about the document and may be printed if needed.
Related Topics: