The Document Control Index (DCI) may be accessed from the Main Menu Icon Bar or from the Main Menu > Browse Logs option.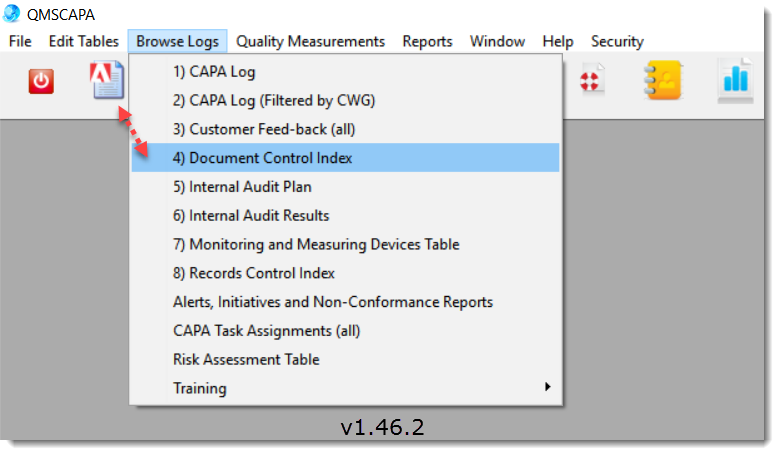 Document Control Management System
Select a document from the Document Control Index browse table.
Document Control Index Table
In the image below ...
A.The browse table provides instant sort tabs by:
(1)Document Id (user defined)
(2)Document Title (user defined)
(3)File Path Name where stored (user defined)
(4)Department (user defined)
(5)Status (user defined)
(6)System Document Id (SysDocId)
(7)Document Type (user defined)
B.The Add, Edit and Delete buttons are used to control records in the Documents Control Index table.
C.The highlighted scroll bar selects the active Document record in the table. The Document File Path / URL is a hyper link to the last linked document. The URL may be local document or Internet resource.
D.Section (D) show the Revision History Journal record for the highlighted Document in section (C).
E.Section (E) displays the Document Approval Journal for the highlighted record in section (D).
F.Section (F) contains various Document Control reports, which includes
☑Documents requiring approval
☑Document change notice
☑Master Document Index
☑Documents Approved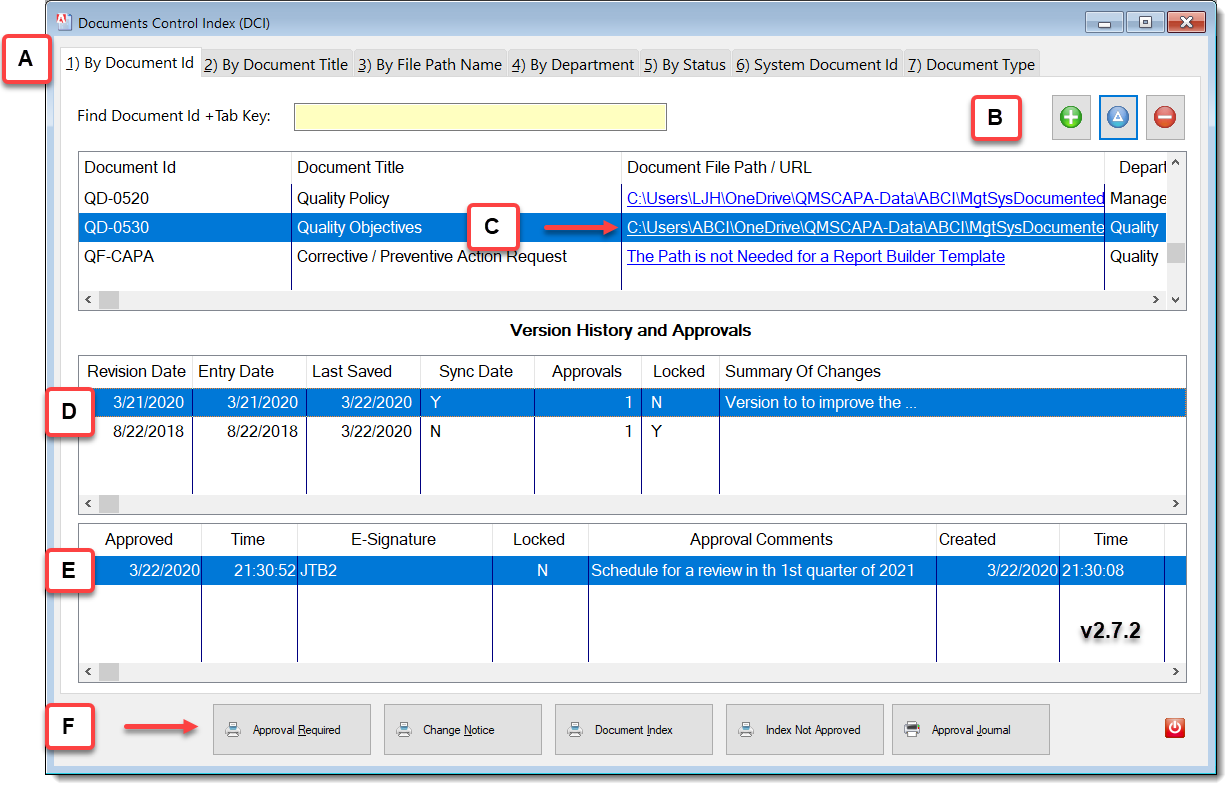 Documents Control Form
See ...
▪Document Control Form Tab 1 of the The Documents Control Index Form (see (A) in the image below) provides a record of the document description
▪Document Control Form Tab 2 Version Approval and History provides access to the document version history log and a log of approvals by persons whom are authorized documents.
▪Document Control Form Tab 3 Document Text Editor provides access to the QMSCAPA built-in document generator and text editor.
▪Document Control Form Tab 4 Options provides access to additional document control options.
Related Topics:
•Electronic Document Deployment