As a minimum you will need to add the personnel that QMS or Management System responsibilities, including:
•Anyone that must electronically approve documents or records;
•Anyone allowed to generate a Corrective Action Request or Preventive Action Request;
•Anyone that may be assigned to handle a CAPA;
•Anyone that may be required to verify a finding;
•Internal Auditors;
•Management Representatives;
•Anyone that may be required to conduct a Management Review of CAPAs.
In the image below, Tab 1) Profile:
1)The Employee Table provides access to the Employee Record using the Employee Edit Window.
2)Check the þ QMSCAPA System User if the person is intended to be a QMSCAPA user.
3)Identify the appropriate Type of Personnel.
4)Use the Update button to save the current tab and move to the next tab.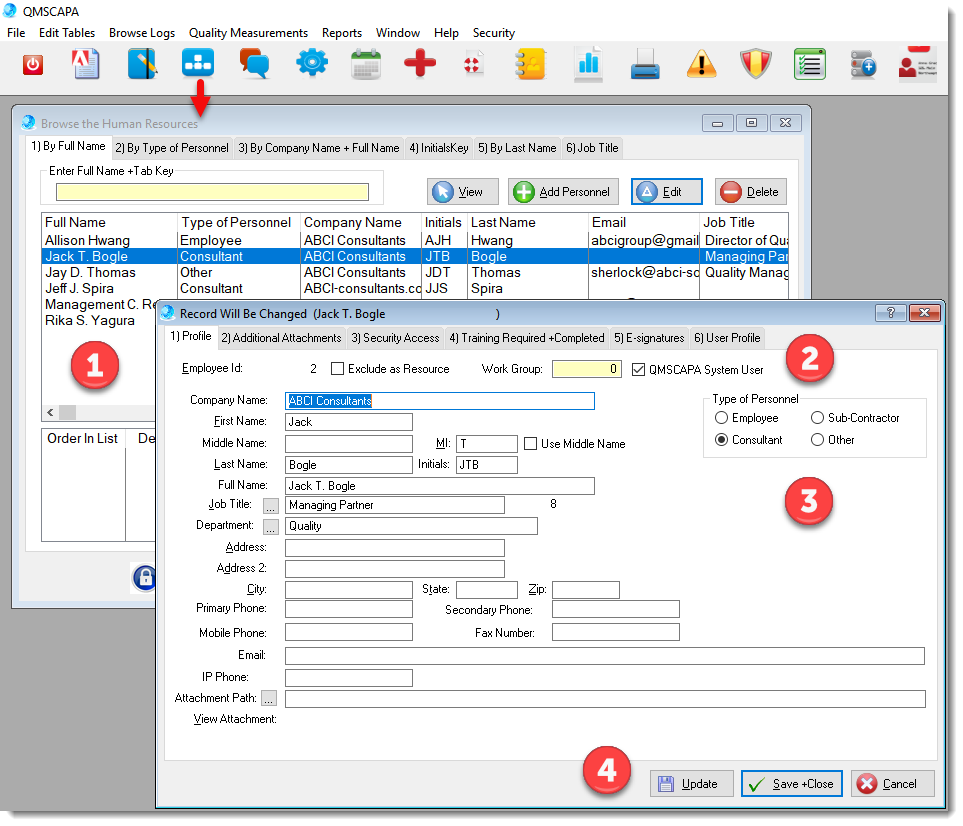 In the image below, Tab 2) Additional Attachments:
•Add Training Certificates, Job Descriptions, etc.
In the image below, Tab 3) Security Access:
•Add Security Access related to the Employee
In the image below, Tab 4) Training Required +Completed:
•Training scheduled and completed for the selected employee will appear in the Tab 4) table.
In the image below, Tab 5) E-Signatures:
1)Electronic Signatures should only be used for Authorized Signers.
2)An Authorized Signer must have an Electronic Signature.
3)A analog or image signature can be used and the path to the image should be stored with the personnel record. Using Signature Images may require advanced modifications to QMSCAPA generated forms and documents.

In the image below, Tab 6) User Profile:
1)The user Profile Folder should be the folder where most attachments may be stored.
2)A Personnel Record may be joined or related to a QMSCAPA login code.
3)Lookup a QMSCAPA User login to link by clicking on the Select User from User Security List button.
4)þ Show Task List at Login checkbox will automatically open the Task List Table. þ Show Easy Start Menu at Login checkbox will open the Easy Start Menu.
5)þ Unlock Record prior to Deletion.
Related Topics: Importing Files